From Representative Partner
Shinjyu GLOBAL IP, a founding member of United GIPs, is one of the most international Intellectual Property boutique firms in Japan dedicated to the practice of intellectual property matters.
Since our establishment in 1988, our team of patent attorneys/agents from Japan, as well as China, Korea and US, have been committed to becoming not only an agent or associate of our clients, but a real strategic business partner - who makes protecting IP rights in Japan and maximizing their value easier and more comfortable.
Our promise: we are always ready to be at your service in Japan, in various aspects of IP, with our full dedication and commitment.
Thank you for visiting our website. We hope that you will have a greater insight into our firm upon going through our website and reading about our activities.
Takuji Yamashita
Representative Partner

Koji Murai
Representative Partner

Hidetada Kato
Representative Partner


Name

Shinjyu GLOBAL IP

Location

11th Floor, South Forest Bldg, 1-4-19 Minamimori-machi, Kita-ku, Osaka 530-0054, Japan

Phone

06-6316-5533

Fax

06-6316-5544

Representative Partner

Takuji Yamashita / Koji Murai / Hidetada Kato

Establishment

1988

Staff

Japanese Patent Attorney
Korean Patent Attorney (Of Counsel)
Chinese Patent Attorney
Technical staff
Secretary
Docketing Staff
CAD Operator
Office Manager
Internal Service Desk
IT Staff
Technical Fields

Mechanical/Mechatronics: mechanics, precision mechanics, mechatronics, control systems, and other mechanical fields
Electrical/Electronics: electrical, electronics, computer, telecommunications, semiconductor-related, and other electrical fields
Chemistry/Biology: organic chemistry, inorganic chemistry, pharmacy, biology, macromolecular chemistry, rare earth elements, food products, fiber, medical devices, cosmetics, and other chemical/biochemical fields

Number of Transactions in 2019

Japanese Domestic Applications: 1,905
International Applications(total number of applications filed): 1,549
Countries in which applications were filed: Japan, U.S., EPC, China, Korea, etc, more than 20 countries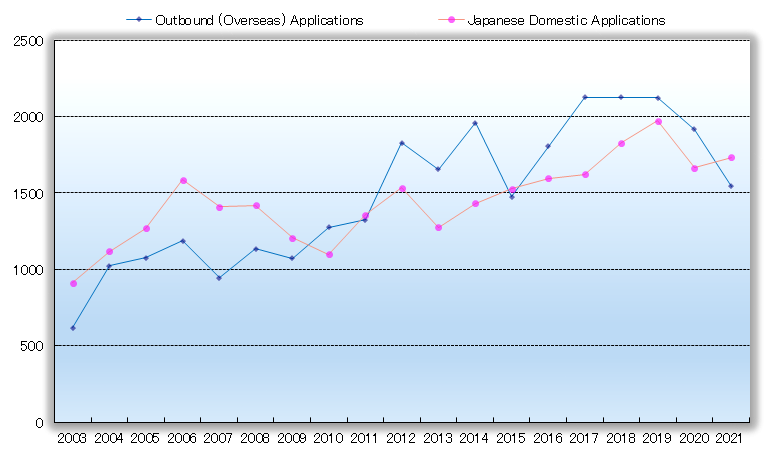 11th Floor, South Forest Bldg, 1-4-19 Minamimori-machi, Kita-ku, Osaka 530-0054, Japan
Phone:06-6316-5533
By Subway and walk:
Please get off at the Subway Minamimorimachi Station (T21), next station to Higashi-Umeda Station.
From Exit 2 of the Subway, please turn to the left and go straight for about 50 meters.
The building is on the second corner.
Exit 2 of the Subway is the closest exit to our office.

From Exit 4-B of the Subway, please cross the intersection toward the west and walk straight for about 60 meters.
The buiding is on the second corner.


By JR (Japan Railways) Tozai Line and walk:
Please get off at the Osaka-Temmangu Station.
Exit from the West ticket gate of the Station and exit from the Exit 3 of Osaka-Temmangu Station.
From the exit, please walk toward the west, Umeda area, for about 50 meters and please cross the first intersection to the west direction. Please walk about 60 meters more.
The building is on the second corner.
The table below can be scrolled horizontally.
| | | |
| --- | --- | --- |
| | Shinjyu GLOBAL IP | United GIPs |
| 1988 | Ono Miyagawa International Patent Firm established in Tenma, Osaka | |
| 1989 | Office moved to Kyobashi, Osaka | |
| 1991 | Name changed to Shinjyu Joint Patent Firms | |
| 1993 | Office moved to Kitahama, Osaka | |
| 1994 | Office moved to Abeno, Osaka | |
| 1996 | Office moved to Katamachi, Osaka | |
| 1998 | | First American affiliate established in Washington, D.C. |
| 2000 | Office moved to Minamimori-machi, Osaka | |
| 2001 | | GLOBAL IP Tokyo and GIP Korea established in Tokyo and Seoul respectively |
| 2003 | Name changed to Shinjyu GLOBAL IP | |
| 2009 | | GIP CHINA Corporation and GLOBAL IP Europe Corporation established in Beijing and Munich respectively |
| 2012 | | GIP India established in New Delhi |
| 2013 | | GIP ASEAN established in Singapore, Malaysia, Thailand, Indonesia, Vietnam, and Phillipines |
| 2015 | | United IP Counselors, LLC established in Washington, D.C. and designated as only American affiliate |
| 2017 | | GIP Italy established in Milan |
| 2018 | 30th Anniversary | GIP Brazil established in Rio de Janeiro |